Spring 2015 Event is now completed!
Introduction
Edit
Milihime Spring 2015 event based on the historical Siege of Tobruk. This is Milihime Taisen 2nd event after the Maxim Gorky.
Event Map
Edit
Similar to the Maxim Gorky event, the player must have the same number of squads corresponding to the number of the map. Eg, Map 1 requires 1 squad, Map 2 requires 2 squads and so on.
E-1: Siege of Tobruk (Normal)Edit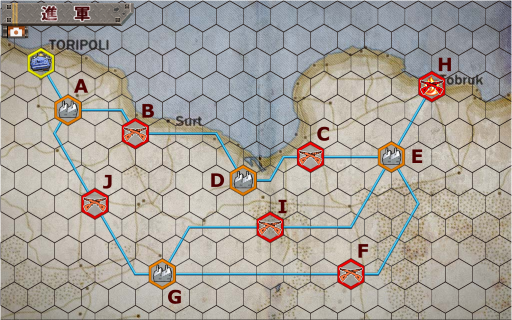 Difficulty Degree
Friendly
Strategic Bases
None
Description
The Tobruk Fortress must be captured! (First squad is required to enter this map)
「トブルク要塞」を攻略せよ!(第一部隊があれば作戦実行可能になります)
Special Reward
Furniture = Rommel Doll
From G to F
Have 2 Infantries

a
A
Manufacturing Factory
Description
Receive 50 Fuel
B
Battle of Surt
Description
Terrain
Enemies
Drops
-None-
Notes
C
Battle of Sidi Mustafa
Description
Terrain
Enemies
Drops
-None-
Notes
D
Manufacturing Factory
Description
Receive 50 Gold
E
Manufacturing Factory
Description
Receive 50 Gold
F
Battle of Salil
Description
Terrain
Enemies
Drops
-None-
Notes
This area requires 2

a

G
Manufacturing Factory
Description
Receive 50 Ammo
H
Capture of Tobruk
Description
Terrain
Enemies
80px
80px
Drops
-None-
Notes
I
Battle of Aujira
Description
Terrain
Enemies
Drops
-None-
Notes
J
Battle of Hamra al-Assad
Description
Terrain
Enemies
Drops
-None-
Notes
E-2: Siege of Tobruk (Intermediate)Edit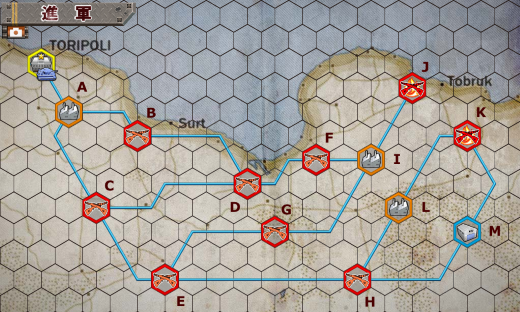 Difficulty Degree
Normal
Strategic Bases
None
Description
The Tobruk Fortress must be captured! (Second squad is required to enter this map)
「トブルク要塞」を攻略せよ!(第ニ部隊まで必要になります)
Special Reward
Hime = Dumitrescu
From A to B
Have 5 or more Tanks [Any of

c

,

d

or

e

]
From C to D
Have 1 or more Planes [Any of

n

or

o

]
From E to H
Have 2 Infantry [

a

or

b

]
From H to L
Have no Command Vehicles

m
E-3: Siege of Tobruk (Hard)Edit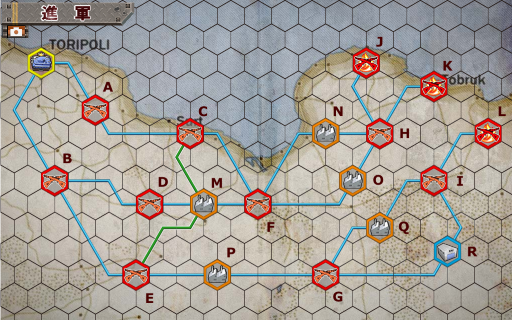 Difficulty Degree
Hard
Strategic Bases
None
Description
The Tobruk Fortress must be captured! (Third squad is required to enter this map)
「トブルク要塞」を攻略せよ!(第三部隊まで必要になります)
Special Reward
Hime = Messe
Equipment = 7.92mm MG34 + Antiaircraft Gun Mount
From Start to A
Have 9 or more Tanks [Any of

c

,

d

or

e

]
From B to E
Have 4 or more Infantries [Any of

a

or

b

]
From E to M
Have a Plane [Any of

n

or

o

]
From G to Q
Have no Command Vehicle

m
E-4: Siege of Tobruk (Ultra)Edit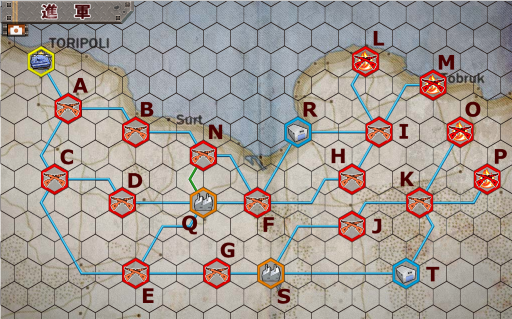 Difficulty Degree
Ultra
Strategic Bases
None
Description
The Tobruk Fortress must be captured! (Fourth squad is required to enter this map)
「トブルク要塞」を攻略せよ!(第四部隊まで必要になります)
Special Reward
Equipment = Canister Shot
Equipment = S-mine Launcher
Equipment = 7.92mm MG42 + Antiaircraft Gun Mount
Equipment = FuG220 SN-2
From A to B
Have 13 or More Tanks [Any of

c

,

d

or

e

]
From C to D
Have 3 or Less Infantry [Any of

a

or

b

]
From E to Q
Have a Plane [Any of

n

or

o

]
From F to H
Have no Command Vehicle

m

From S to J
Have no Command Vehicle

m