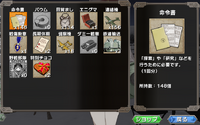 Items are consumable items that allow you to complete certain tasks, or that give your Milihime special abilities.
Item Inventory
Edit
Getting to your Items
Edit
The Item Inventory screen can be reached in three locations.

Item Types
Edit

Directive


Baumkuchen


Alarm Clock

Enigma Cipher Machine

Storch Liason Aircraft

War Wound Medal

Extended Leave Permit


Aerial Reconnaissance


Canned Chocolate


Dummy Tank


Train Transport


Field Repair Unit


Special Chocolate

Ad blocker interference detected!
Wikia is a free-to-use site that makes money from advertising. We have a modified experience for viewers using ad blockers

Wikia is not accessible if you've made further modifications. Remove the custom ad blocker rule(s) and the page will load as expected.