A listing of Milihime illustrators, and the Milihime that they have drawn. WIP. Getting the raw data in now. Will 'neaten' it later.
140px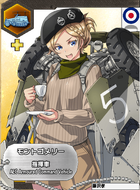 003.Gabreski 016.Visconti 022.Simonds 023.Beurling 024.Matthews 036.Ruffer 060.Rudel 066.Heppes 082.Șerbănescu
004.Patton 065.Cossel
007.McCAuliffe 008.Gavin 011.Nicols 012.Plough 014.Vandelour 043.Strippel 048.Bayerlein 052.Fischer 057.Bölter 075.De Gaulle 078.Leclerc 083.Nicols Shou 091.Strippel Shou 093.Bayerlein Shou 095.Fischer Shou 098.Bölter Shou
009.O'Connor 010.Kay 013.Horrocks 021.Walters 084.Horrocks Shou
017.Cazzago 020.Reverberi
018.Pascucci 019.Bruno 069.Törni 071.Mannerheim 072.Juutilainen 079.Orlik 080.Kleeberg 081.Szyszko
025.Oskin 026.Kuchenkov 027.Kolobanov 029.Samohin 032.Naydin 033.Fadin 034.Burda 035.Lavrinenko 070.Halonen 074.Lagus 085.Samohin Shou 086.Naydin Shou
028.Zaytsev 044.Ramcke 064.Anding 073.Häyhä 114.Allerberger
030.Zhukov 031.Timoshenko 045.Deutsch 047.Naumann 053.Primozic
037.Wahl
038.Ernst 041.Knispel 046.Neigl 087.Ernst Shou 089.Knispel Shou
039.Carius 042.Kerscher 089.Carius Shou
040.Guderian 059.Manstein 063.Rommel
049.Bach 051.Hübner 076.Billotte 077.Langlade 100.Billotte Shou
050.Bix 055.Bunzel 062.Rosen 090.Rosen Shou 094.Bix Shou 097.Bunzel Shou
054.Bronikowski 060.Luck 092.Luck Shou 096.Bronikoswky Shou
067.Tarczay 099.Tarczay Shou 113.Hobart
068.Mayor
101.Viezenz 102.Wenck 105.Hartmann 109.Messe
103.Martin
104.Halm
106.Dumitrescu
108.Kohlke
110.Strachwitz 111.Strachwitz Shou
Ad blocker interference detected!
Wikia is a free-to-use site that makes money from advertising. We have a modified experience for viewers using ad blockers

Wikia is not accessible if you've made further modifications. Remove the custom ad blocker rule(s) and the page will load as expected.