Registration
Registering to play Military Maiden is quite simple, though there are a few hurdles so take note.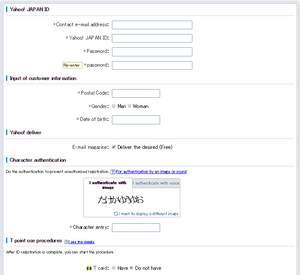 First off, you have to make a Yahoo JP ID. Simply fill in your particulars on the required text boxes. You can get a 7-digit Japanese Postal Code 
here
.
The most difficult part to overcome is the Character Authentication in Hiragana. You might need to have your keyboard settings changed to Japanese IME to enter. You can also visit this site and manually copy the Hiragana characters, but this will take time if you are not familiar with the language.
Once you've finished creating your Yahoo JP ID, you're going to need to create a Yahoo Mobage ID, which is your account for Yahoo JP Games.When you're done, you may start playing the game without needing any VPNs. Unlike Kantai Collection, this game doesn't require a lottery.
Entering Your Name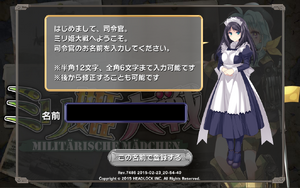 The very first thing the game will ask you is to enter your desired username. Any language will do as long as you can manually input it with your keyboard. Copy pasting won't work though.
Choosing Your Starter
Next, you'll be asked to select your first Millihime. You've got 5 choices to choose from:

前の姫 = Previous Milihime
次の姫 = Next Milihime
この姫でスタート = Start with this Milihime

Most of their stats are relatively the same with high Hit [命中] and all rounded for the rest. So the choice wouldn't be too difficult.